One must live the identity that one feels over that which is imposed
Different gender identities and sexual orientations have always existed, but this fact has not always been respected. Everyone who has ever felt different from what it is to be "normal"; that is, heterosexual, has been stigmatized and punished for feeling what they feel and for being what they want to be. Let's provide a little context.
Before the arrival of the sexual revolution in the 1960s, there was no commonly used term that was respectful for those who were not heterosexual; the term "homosexual" existed but quickly acquired negative connotations and synonyms such as homophile or gay. This concept became more widespread when lesbians also began to claim their sexual identity and feminism, a movement to fight for gender equality and homosexual rights. Later, bisexual and transgender people joined the fight, with whom there was a certain clash of opinions at first, as gay people were shocked that a person could be attracted not only to one gender but to both (bisexual) or that a person felt they should be the opposite sex of which they were born (transsexual). But it was all there, in a simple clash of opinions. Ultimately what mattered was that these communities united to defend themselves and to represent themselves before the rest of society.
"Each person has the right to love, dress and be who they want to be without it being a reason for discrimination or aggression."
Currently, all these different gender identities and sexual orientations are defined with the initials LGBTI (Lesbian, Gay, Bisexual, Transgender and Intersexual); and they not only refer to a group but also to a political movement that fights for the acceptance, respect and protection of their rights as a community.
The LGBTI movement, initially associated only with that of the "gay community", was replaced by a more inclusive one, where all sexual identities had a place and had showed the strongest impact during the second half of the 20th century and the first half of the 21st century. Of course, this kind of visibility was achieved after years of great political and social struggles.
We can see an example of this is in Spain in 2005, during the government of socialist leader, José Luis Rodríguez Zapatero; the Congress of Deputies approved the amendment of the Civil Code so that same-sex couples could marry and have the same marital rights as heterosexuals, including the right to adoption, thus making Spain one of the most tolerant and advanced nations in terms of LGTBQ+ rights. This also made Pedro Zerolo, lawyer and politician, one of the most important LGTBQ activists in the history of Spain.
"They, who tirelessly struggled as the vanguard in seeking a better society for all, laid the foundations for all others."
Citizens joining the LGBTIQA + movement in one of its many demonstrations.
SOURCE: vive UVM
It should be added that in recent years the acronym has been extended to include other identities such as Queer, that is, people who refuse to be classified by their sexual practices or their gender. By not identifying with a label, their goal is to not limit their experience as a person, and same with Asexuals (LGBTIQA+). In addition, this latest adaptation merges Transgender and Transsexual people in one letter of the acronym (T); the + symbol is used to include all those communities that do not feel represented by any of the acronyms previously mentioned.
"The LGTBIQA+ fight has helped integrate individuals who would otherwise have been marginalized by the rest of theglobal community."
The film industry breaks stereotypes of the LGBTIQA+ community: cinema made with pride
Throughout the history of cinema there has been a considerable evolution in the way sexual diversity is portrayed. Until the 80s, the big Hollywood producers perpetuated established prejudices by representing homosexuals in a stereotypical way (effeminate, flamboyant …). Today, this has totally changed. Now we can find films aimed exclusively at the LGBTIQA+ audience that show sound characters in realistic situations.
We can see a distinct difference in the movie industry between LGBTIQA+ themed films, whose plot focuses on homosexual characters and their relationship in society, and films with secondary LGBT characters, in which sexuality is not one of the movie's main themes.
Here we'll present, in chronological order, some of the best LGBTIQA+ movies ever made.
One of the first LGBTIQA+ community films to present a positive portrayal of male homosexuality was "The Dickson Experimental Sound Film" (1895). The same is true about a medium-length film that's considered to be one of the forerunners of Queer representation in cinema, "Different from the Others" (1919). Its main theme revolves around a homosexual couple who fall in love and their challenges as their relationship gets rejected by their respective families.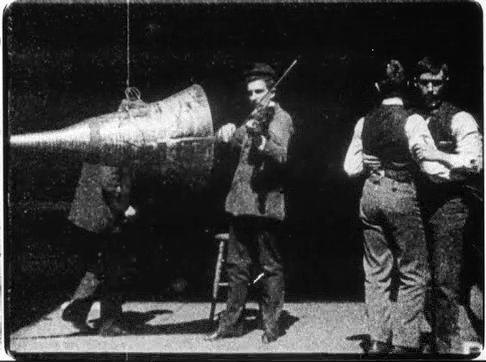 Scene from the movie "The Dickson Experimental Sound Film" (1895) that shows the main characters, a homosexual couple, dancing.
SOURCE: Wikipedia
Later, a film adaptation of the 1931 play, "Girls in Uniform" (1931), was released, making it the first movie to openly address lesbianism. It focuses on the story of a young woman who is sent to a boarding school, where she falls in love with her teacher.
During that same time, cinema began seeing the roles of female protagonists dressed in men's clothing. We find this in films like "Morocco" (1930) and "Queen Christina of Sweden" (1933).

Scene with Marlene Dietrich in the movie "Morocco".
SOURCE: RTVE.es
From there the LGBTIQA+ community's representation of their tastes and beliefs continued growing, as seen in "Our Betters" (1933) or "To an Unknown God" (1977). Films in which gay men throughout history are shown putting on makeup and identifying with what is classified as "feminine". The male protagonists in such films don't hide their feelings but let themselves be led by what they feel despite the consequences.
There were also films that sought to challenge conventions by featuring transvestites and Drag Queens, which, at that time, were frowned upon by society. Such films and musicals include "Glen or Glenda" (1953), "Pink Flamingos" (1972), "The Rocky Horror Picture Show" (1975), "Los Bingueros" (1979)or "To Wong Foo, Thanks for everything! Julie Newmar" (1995).

Scene from the movie "Pink Flamingos" (1972).
SOURCE: Quad Cinema
Film also aimed to show the suffering that could manifest by the community's non acceptance of all identities. For example, movies like "Victim" (1961), "Diferente" (1961) or "The Death of Mikel" (1984) in which the Queer character suffers from his own identity due to possible rejection, causing tragic consequences.
Some of the films that caused other types of controversies were "Thou Shalt Not Covet Thy Fifth Floor Neighbour" (1970) or "Legally Blonde" (2001), as they associate the homosexual man with typically feminine features, subjecting them to inferiority regarding leadership, physical power and virility. And, as one might expect, we also find among these types of films "Dark Habits" (1983), a film by Pedro Almodóvar that focuses on controversial topics such as drugs, prostitution and religion.
Now, as stated in the title of the article: "Cinema is fiction but is still a reflection of reality." This facet has also been shown in films such as "Las Cosas del Querer (The Things of Love)" (1989), starring Ángela Molina. The film received seven nominations for the Goya Awards and is about a musical group made up of a homosexual singer, a pianist and his girlfriend. It's the story of their success until the aristocratic reality of Madrid lashes out against the singer's homosexuality.
A year later "Paris is Burning" (1990), one of the most important LGBT documentaries in the history of cinema about Drag Queen competitions, was filmed and was awarded the Grand Jury Prize at Sundance.

Scene from the iconic "Paris is Burning" (1990) directed by Jennie Livingston.
SOURCE: i-D Magazine
And, nine years later, great movies appeared like "Boys Don't Cry" (1999), a film based on the true story of Brandon Teena, a transgender man who was beaten, raped, and killed. The film stars Hilary Swank, who won the Academy Award for Best Actress in 2000 for her magnificent performance in a transgender role; or "Todo Sobre Mi Madre (All About My Mother)" (1999), a feature film directed by Pedro Almodóvar that focused on the theme of transsexuality. It won a well-deserved Oscar for best film and several Goya Awards for best director, lead actress and film, in addition to the Golden Globe Awards, European Film Awards, among many others.
Regarding the most awarded and internationally recognized Spanish director, Pedro Almodóvar, we must acknowledge his superior handling of hot and controversial topics in all his films, as he has proven with homosexuality or transsexuality in the aforementioned film.
On the other hand, lesbianism appeared in the cinema in 1931, but it was not until the year 2000 that more came into the limelight. We see this with films such as "My Mother Likes Women" (2001),in which a mother tells her three daughters that she is in love with a woman, causing one of them to have a sexual identity crisis. There's also "Room in Rome" (2010), in which two women, one Russian and one Spanish, meet in a hotel room where pure eroticism and sensuality fill the air and both accept it. Both were nominated several times for the Goya Awards.

Scene with both protagonists in the movie "Room in Rome" (2010).
SOURCE: RTVE.es
Another necessary film to highlight is "Pariah" (2011), in which an African American woman explores her homosexual identity and falls in love with her friend. Because of this, we see her struggles with her family's hostility. It deals not only with issues of homosexual identity and feminism, but also of self-esteem and acceptance. We must also not forget "Blue is the Warmest Colour" (2013), about a fifteen-year-old girl who has doubts about her sexuality when, unexpectedly, one day she falls in love with Emma, a young girl with blue hair. This causes her to have to deal with the prejudices and stereotypes of family and friends. The movie won the BAFTA Awards, the Palme d'Or for Best Film and the FIPRESCI Award at the 2013 Cannes Film Festival.
So far we have talked about some of the communities that make up the LGBTIQA+ acronym, including transgender. About this group, it's essential to name "The Danish Girl" (2015), a drama based on the true story of Lili Elbe, known as Einar Wegener, the first transgender woman to undergo sex reassignment surgery. The film earned four Oscar nominations, five BAFTA Awards, and many more.
Finally, we want to highlight two of the most recent films about the LGBTIQA+ community. The first is "Beauty and the Beast" (2017), which was the first Disney movie to explicitly portray LGBT characters. Here we see the secondary character, Le Fou, exposed as a homosexual man who is in love with his friend, the main character, Gaston. And, the second, "Disobedience" (2018), directed by the filmmaker Sebastián Lelio, who won an Oscar and the "queer ally" credential after releasing two exemplary films about the LGBTIQA+ community. This is one of them and features two heterosexual actresses who star as two homosexual Jewish women who fall in love after meeting again years later.
As we have seen, the LGBTIQA+ community is represented in different ways in a large number of cinematographic works. It should also be noted that not only is the portrayal of this community found in the cinema, but also in television series such as "Veneno" (2020), a miniseries directed by Javier Ambrossi and Javier Calvo, known as Los Javis. It is about a famous transsexual from the 90s known as "la Veneno" and tells the reality of the LGBTI community in Spain from the 60s to the present day. We also see it in other popular series such as: "Glee" (2009-2015), "The New Normal" (2012-2013), "Modern Family" (2009-2020), "Dynasty" (2017-present), "Downton Abbey" (2010-2015),"How to Get Away with Murder" (2014-2020), "The Cable Girls" (2017-present), among many others.

Three of the characters from the series "Venom" (2020) directed by Los Javis.
SOURCE: El Periódico
Last but not least, it is essential to highlight the actors and actresses – who have been offered roles that portray people from the LGBTIQA+ community in films – that have rejected such offers because they feel these communities should have the opportunity to participate and tell their own story for themselves. A current example is Halle Berry, who was offered the to play the role of a transgender man and who, after really thinking about the implications of taking it, decided not to do so based on this principle.
The LGBTIQA+ Community in Ibiza: Ibiza Gay Pride
Shifting the focus now on our island, we want to talk about one of the most important celebrations for the LGBTIQA+ community: the Ibiza Gay Pride, that has such great relevance at the European level.
This Gay Pride Day party – that usually lasts for five days – involves musical performances by Drag Queens, screenings of LGTBIQA+ short films participating in the Ibicine Film Festival, theatrical performances, a grand closing gala and awards ceremony with huge celebrities from the world of cinema, among others.
The main objective is to enjoy the atmosphere and the show – and give meaning to human life, freedom and tolerance. As well as equality, respect and love under the motto "An island full of color".
It should be said that the Ibiza Gay Pride this year was going to be held from June 10 to 13 in four of the five municipalities on the island, but for public health and security reasons given the current COVID-19 global health crisis, it was postponed.


SOURCE: Ibizagaypride.eu
It's an event that many people are looking forward to with great enthusiasm. But, as Antonio Balibrea, director of Ibiza Gay Pride, stated: "The new dates will be announced once they are final and are agreeable with the rest of the gay pride festivals that are celebrated throughout Europe. "