Drive-in movies since their origin
We might think that drive-in theater is something relatively new, but it's not. The world's first drive-in opened in 1933 in Camden, New Jersey and was created by Richard Hollingshead Jr. It all began with him experimenting with various projection and sound techniques using a 1928 Kodak projector supported on the hood of his car and pointing to a screen placed between some trees to reflect the images – at the time, completely unaware that he was creating a new business model.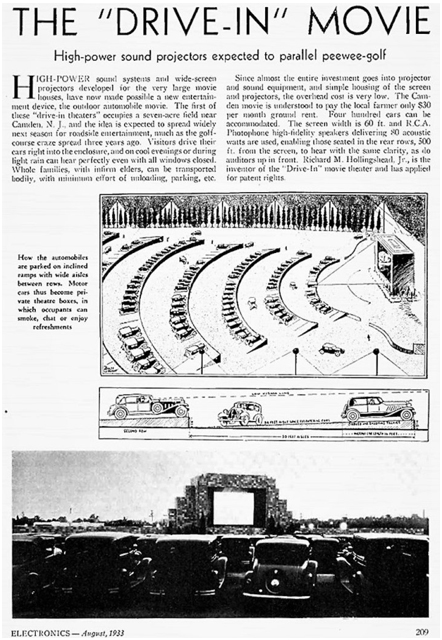 Publication of the Hollingshead drive-in theater, the first ever (1933), in the Journal Electronics.
SOURCE: Original Inflatable Screen
He did all this for two alleged reasons. The first was that his mother was overweight and didn't feel comfortable in traditional movie theater seats, so the purpose behind his idea was so to give everyone the ability to watch a movie in complete comfort. Meanwhile, the second reason has a more commercial purpose: to promote the use of the automobile with the products that his family's auto business manufactured under the advertising slogan: "Everyone in their own private theater box."
It should be noted that, after he finished testing that the film could be heard and seen from all the cars that could fit within capacity, he created the catchy drive-in slogan: "The whole family is welcome, no matter how noisy your children are ".
From there, drive-in movies spread throughout the United States – with the greatest popularity from the late 1950s to the early 1960s – so much so that there were more than 5,000 drive-ins in the country, becoming a symbol of the "American Way of Life". Later the idea reached Europe, with the first drive-in cinema established in Frankfurt, Germany and also reached into Latin American countries.
Its success waned from 1970 to 1990 as properties became increasingly expensive for drive-ins. But, there have been very successful open-air cinemas, like those in Lexington, Virginia; Eden, North Carolina; Eau Claire, Wisconsin; Lake Elmo, Minnesota; Luverne, Minnesota, Oak Harbor on Whidbey Island, and Washington, Ohio. Many of these are used today as warehouses or market spaces. In fact, the Thunderbird drive-in is currently known as the Fort Lauderdale Swap Shop – in addition to being the world's largest drive-in theater, it's also the world's largest Persian market.
Back in the game with almost 300 drive-ins
According to the Union of Drive-In Owners, the final decade of 1990 and the first decade of 2000 were key to opening new drive-ins and reopening those that were once closed. It was in 2001 that it began booming again after a wave of drive-ins under the slogan "Do It Yourself" were modernized by modern technology enthusiasts that used current projectors and radio micro-transmitters to revamp what was once used.
Currently, there are almost 300 drive-ins around the world. There are in Australia, Germany, Italy, England, Spain, Ireland, Mexico and Argentina.
The idea was so successful that the Bell Museum of Natural History in Minneapolis recreated it but with a twist – instead of viewing the films inside cars, it was intended for pedestrians and people who ride bicycles; creating a bike-in cinema for these users to watch movies or listen to live music outdoors.
With the current Covid-19 pandemic, drive-ins have become an alternative to conventional cinemas in closed rooms, resulting in their increase in different countries of the world. Each drive-in movie theater has a limited capacity like movie theaters do, with vehicles positioned around the screen so that everyone can comfortably view the movie.
Drive-ins make a comeback in the "new normal."
SOURCE: Spirit RACER
The latest in times of Covid-19: enjoy the movies without leaving the car
Drive-ins have become a solution to reintroducing cultural leisure activities in times of coronavirus. They allow you to maintain the new normal's social distance rules from other moviegoers in the privacy of your own car and to enjoy the outdoors with family, friends or by yourself.
Because of this, there are many companies showing great interest in them. A clear example is Seat teaming up with the television station SAT1 in May when they organized a screening of pop singer Tim Bendzko's concert at the Drive-in in Düsseldorf, Germany.
In Alicante, a drive-in cinema with the largest screen in Europe has already been built, in which there is not only a space for cars but also a garden area and even a pet park. It's called Cinemacar, and "it's a new form of entertainment and leisure based on musical, cinematographic and restaurant culture that has the highest standards of quality, safety, design and comfort.", @cinemacaralicante states in its Instagram account.
There's also the Madrid RACE Drive-in, created in 2017, which is the largest and most well-known in Spain. It has a large outdoor space, another area for screenings, exhibitions, food trucks … It has been showing classic films for years, without neglecting major premieres.
Madrid RACE Drive-in, the largest drive-in theater in Spain showing the classic film, Grease.
SOURCE: autobild.es
There's also the Drive-In of Denia, the oldest in Spain and the first to resume its activity after the  Covid-19 lockdown with an incredible offer: five euros per person, no cost for the car, plus a double feature of popular films, The Minions and Jurassic Park.
Screening at the  Drive-In of Denia.
SOURCE: republica.com
These are just a few of the many examples of legendary drive-ins that we can enjoy this summer. Now, are there any in Ibiza? What cultural activities replace the traditional cinemas on the island?
Culture in Ibiza adapts to the new normal
Given the difficult times in which we find ourselves, the Department of Culture, Education and Heritage of the Consell Insular d'Eivissa developed a calendar of cultural and family activities for June and July so that all the people of the island could enjoy and entertain themselves while maintaining all the sanitary measures necessary for everyone's safety. Among them we find drive-ins, specifically the one held at the Sa Coma venue, which screened great films such as "1917" by Sam Mendes (June 26), "Joker" by Todd Phillips (July 3), "TAG " by Jeff Tomsic (July 10) and "Knives Out" by Rian Johnson (July 19).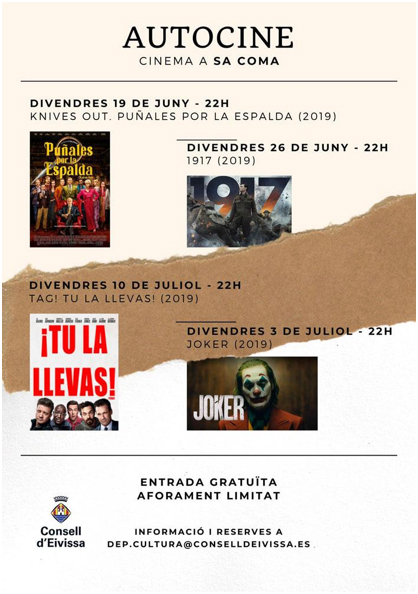 Drive-in billboard Sa Coma.
SOURCE: welcometoibiza.com
This programming took place on Fridays at 10:00 p.m. from June 19th to July 10th. They fit 80 vehicles and entry was completely free. Of course, reservations had to be made electronically and printed out or presented on a mobile device, and all safety instructions given by the staff had to be strictly followed, in order to make this cultural activity a pleasant and safe evening for everyone.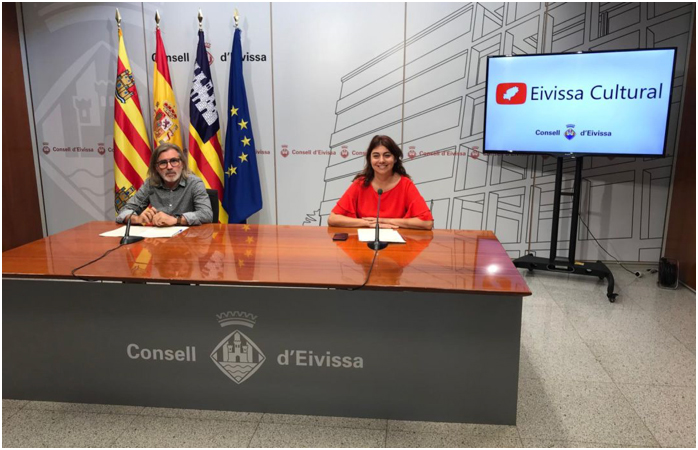 The Consell Insular d'Eivissa presenting the calendar of cultural and leisure activities.
SOURCE: Cadena SER
There's no doubt that drive-ins have become an original and fun way to enjoy cinema in these times due to the health crisis. And that our island, as always, is much more than party and discos. Ibiza is art; it is full of life, and it adapts its cultural offerings to the new times so that everyone can continue enjoying  programmed activities.
Cinema Paradiso carries out outdoor cinema events in Ibiza to create "The Ultimate Cinema Experience" in extraordinary places for those who attend. Tickets can be reserved to attend a public screening or to request a private home movie screening. They already have the August and September movie listings ready. Sounds like an amazing plan!