What comes to mind when we think of the word cinema? Maybe it's a way to entertain ourselves, to pass the time, and even escape from everyday life for a moment. And all of this is true. But it's important to know that, today, it has come to mean so much more.
We are talking about a concept that goes much further because cinema is motivation. It is inspiration. And ultimately, it is a set of images combined with sound through which to transmit messages, sensations and values ​​that – throughout history – have helped modern society  become aware of different sociocultural problems, bringing them to our reality and thus acting as an engine of change.
There are countless feature films that have made us reflect and have managed to plant a seed in our minds through the stories told on the big screen; films that have moved us and that have made us see the other side of a story that we thought for sure we had so clear …the thing is that reflection is something that inevitably goes hand-in-hand with cinema.
Whether we are moved by their artistic mastery or are affected by their message, there is no doubt that films can leave a legacy that lasts much longer than their projection. In some cases, they have even promoted social transformation that has resulted in real-world behavioral.

"The Great Dictator (1940)". "Emperor of the world, my world", said the actor in the tyrant's skin while playing with a globe that exploded in his face.
Source: diezminutos.es
Movies that have left their mark
We wanted to make a small compilation of some films that have triggered a change in the behavior of our society on some level.
"The Great Dictator" (1940), Charles Chaplin's satire on the rise of Nazism, stirred consciences by showing the world the horrors that were taking place in Germany. His final speech has become a part of cinematic history.
Another film from the same period but of a completely different genre is "Bambi". After the animated movie's premiere in 1942, the number of hunters reduced by 50 percent, thus becoming a symbol of the fight for animal rights.
After the premier of "JFK" (1992), Congress began doubting the US's early declassification of documents related to the Kennedy assassination.
Tom Hanks won an Oscar for his role in the movie "Philadephia" (1993) where he played a character suffering from AIDS at a time when hundreds of people were dying from this disease. This movie helped raise society's awareness of the issue and the film went down in history.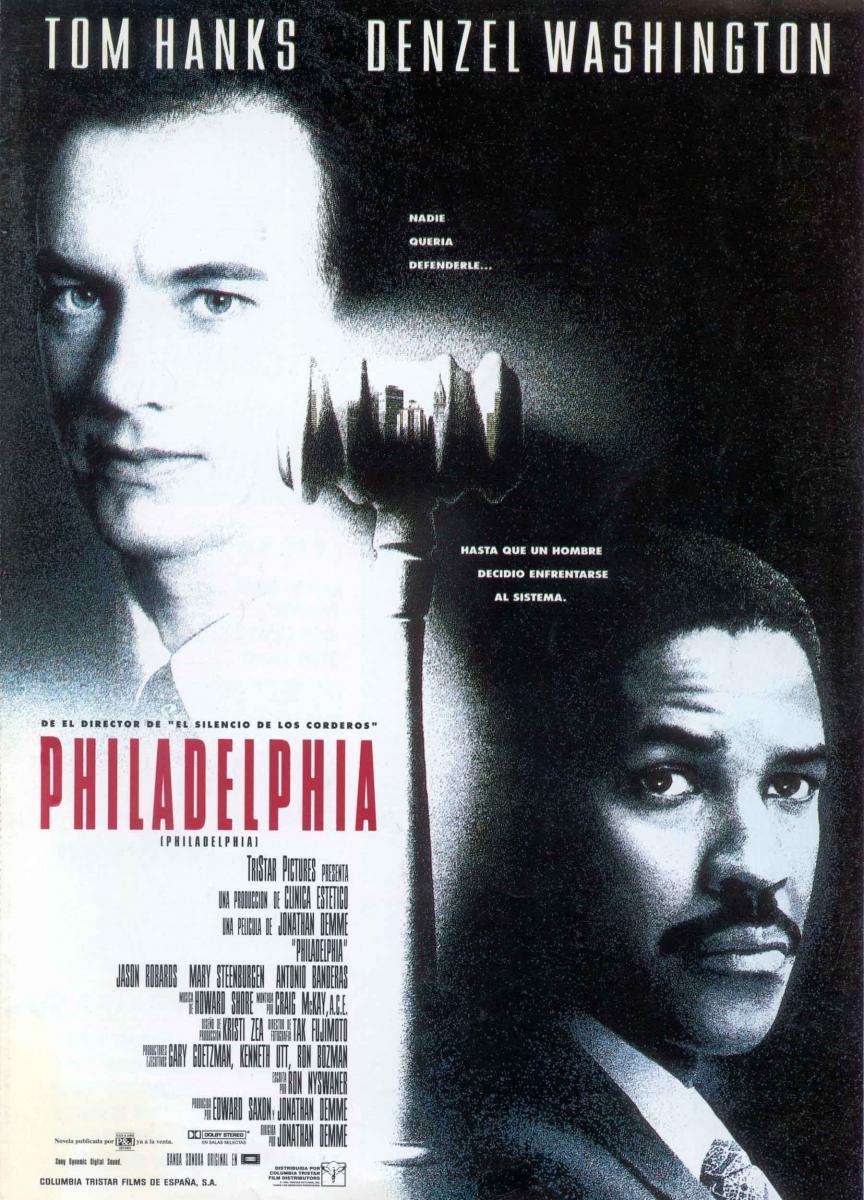 "Philadelphia" (1993).
Source: Filmaffinity
Another cinematic jewel that addresses the issue of homosexuality is "Trevor" (1994), a moving film that tells the story of a 13-year-old boy who was marginalized and mistreated by his peers to the point of trying to end his life. After the film was released, its director – with the help of mental health experts – launched a helpline for young people with LGTBI status.
Turning now to the documentary genre, we will always remember the commotion caused by "Super Size Me" (2004) in which Morgan Spurlock commits to a full month of consuming food only from McDonalds. The viewer is taken along on his journey and sees how this affects his physical and psychological health. This documentary not only made many people rethink their diet but – a few weeks after its premiere – it resulted in a complete rebranding by the famous fast food chain that lasts to this day (they even changed their corporate color to a "healthier" green).
Do you know the 'Rosetta Law'? "Rossetta" (1999), winner of the Cannes Palme d'Or, tells the story of a destitute 17-year-old girl who lives in a caravan with her alcoholic mother and her desperate search for work to escape her precarious situation. After its premiere, the Parliament of Belgium passed the 'Rosetta Law' to protect the rights of adolescent workers.

"Mar Adentro (The Sea Inside)" (2004). Directed Alejandro Amenábar and starring Javier Bardem.
Source: Filmaffinity
"Mar Adentro (The Sea Inside)" (2004), tells the story of Ramón Sampedro, a tetraplegic man who fought for 25 to achieve a dignified death and whose case triggered a great social debate.
Continuing with examples from Spanish cinema, there's the film "Campeones (Champions)" (2018), winner of a Goya, that gives a voice and visibility to disabled people.
Cinema transforms the classroom
All of these are just some examples of films that have fostered learning and that have planted seeds in today's society, motivating mankind to reflect on and recognize human problems.
Cinema is information. It is thoughts, attitudes, norms and values … it is made up of very important factors from different spheres: artistic, social, economic, educational and cultural.
We are also talking about a didactic and pedagogical medium, as stated by Juan Manuel Méndez Garrido, writer and researcher on the consumption of the media, "the media, and in particular the cinema, act as informal educators." That is to say, cinema contains the essential tools and criteria needed in educational setting – such as a critical viewpoint, learning and interest that is required to be able to comment about a fairly formal medium. With movies, we can put ourselves in the shoes of the actors and actresses and reflect on their actions – deciding if we agree or not – and contemplate what we would do in their place.

Presentation of Aulafilm at the Film Academy. With the aim of providing cinema as a learning tool, all educational centers in Spain are allowed to access a catalog of more than one hundred films periodically.
Sources: fotogramas.es
Saturnino de la Torre, writer, researcher and promoter of the Formative Film Seminar, provides another interesting reason why cinema's role goes beyond that of mere entertainment. He states that cinema has a great influence and power over the spectators, thus being able to activate mentalities and develop or improve the behavior of the receivers.
In summary, as Iván Leal – a journalist from Columna Cero – concludes, "it's shown that, although there may be different opinions about what cinema is, the true essence of the seventh art is to be a critical medium – with political power, with the economic system – and at the same time be a reflection of inequalities, of groups that suffer, and try to bring about changes and transformations that make a society progress."

Riccioto Canudo, the first writer, poet and film critic to describe cinema in 1911 as the "Seventh Art".
Source: blogs.20minutos.es
We agree with everything that has been said: Cinema goes beyond entertainment; it is teaching, it is culture, it is… an engine of change.
Do you want to talk about more examples? Add your opinions in the comments – we will love to hear them.