As we've told you guys on several occasions, Ibiza has always been an attraction for film directors due to its diversity of landscapes, versatility, climate, the beauty of its beaches and coves, and its easy access to other Spanish and European cities.
These and many other reasons have earned Ibiza the nickname the Island of Cinema, having been the setting for numerous productions, whether feature films, documentaries, shorts, advertising spots or series, nationally and internationally.
In previous posts we talked about the splendour of cinema in Ibiza back in the 1960s, where films about secret agents abounded and the awakening of a shadowed and frightened Spain was palpable, where the yearning to show what up to then could not be shown was already beginning to be felt…the 1970s begin, and with that decade a certain openness to the world, the weakening of Francoism, and external influences inspired a turn in Spanish cinema toward films with a highly erotic charge and mischievous nature, expressing passion like an explosion of life itself. From that moment on, films such as the lesbian-themed "Emmanuelle y Carol" by Ignacio F. Iquino, with its images of the Marina district, Dalt Vila (Ibiza's old town), Figueretes and the outside of Es Codolar airport.
At the end of the 1970s and beginning of the 1980s, films with erotic content were still being shot in Europe, mainly in Sweden, Germany and France, but also some Spanish co-productions such as "Las calientes suecas de Ibiza" (Six Swedish Girls on Ibiza) or "Ibiza al desnudo" (Naked Ibiza).
SOURCE: themoviedb.org
Both were shot almost simultaneously and have censored versions (versiones dobles) using the name of the island to promote it.
During these same years, Spanish comedies, one example of which is "¿Dónde estará mi niño?" (Where Might My Son Be?), starring the great Manolo Escobar, which included shots filmed in the municipalities of Sant Antoni de Portmany, Sant Josep de sa Talaia and Eivissa. It premiered on March 25, 1981 and earned 85,592,885 pesetas, having been seen by 635,591 spectators, according to data from the Ministry of Culture.
A few years later "Sufre Mamón", (Suffer, You Prick) a comedy that describes the beginnings of the legendary group "HOMBRES G", whose director was the father of the vocalist, Manuel Summers. Filmed between Madrid and Ibiza, the shots filmed on the island were recorded in September 1986 and include images of the Hotel Bahamas on Platja d'en Bossa, a view of the city of Ibiza Town shot from a sailboat and a fragment of the concert that Hombres G gave at the Ku nightclub on 10 September, which was attended by more than three thousand spectators. The film achieved considerable commercial success, earning, according to data from the Spanish Ministry of Culture, 1,702,603.28 euros and seen by one million spectators.
SOURCE: Ibiza Film Office
At the end of the 80s, following in the footsteps of Spanish movies and filmed with Ibiza as the backdrop, "Escuadrón" (Squadron) was filmed, a great Spanish-Mexican co-production with a budget of more than 265 million pesetas. It was shot in the autumn of 1986, and features images of Es Codolar airport, Santa Eulària des Riu, Hotel Hacienda Na Xamena in Sant Miquel, Es Caló d'en Real in Sant Josep and the Marina district in Ibiza Town, among other locations.
It tells the story of four men trained in martial arts and counter-terrorism operations who are hired to protect democratic leader Kassar from the threats and abuses of an opposition group in a Middle Eastern country run by a dictator. The place chosen by Kassar to take refuge is the island of Ibiza, where the "squadron" will have to use all their weapons to fight the enemy. It had quite the international cast and was directed by the renowned José Antonio de la Loma.
SOURCE: cinemascomics.com
Already in the 90s and early 2000s, different themes continued to converge in the filming that took place on our island; erotic drama, action and comedy gained strength and titles such as "El Escote" (Cleavage), "El Sueño de Ibiza" (Ibiza Dream), "Apasionados" (Passionate People), "Amnesia" (Amnesia), "Kombate Brutal" (Brutal Kombat) or "Hey DJ" were created.
Special mention for our beloved David Marqués who began to distinguish himself with "Cualquiera" (Whomever), his first feature film and the first part of a trilogy followed by "Aislados" (2005) (Isolated People) and "Desechos" (2010) (Disposable People). Shot in the town of Sant Antoni de Portmany in Ibiza in 2001, it premiered on April 4th, 2003 and was a breath of fresh air, encompassing the feelings of an entire generation, that of those 30-somethings.
Following on the path of the 2000s, horror-themed films such as "Real Zombi Revolver" and "La Raíz del Mal" (The Root of Evil), both part of the extensive filmography of by Adrián Cardona, of which two short films that have had great international success stand out: "Brutal Relax" (2010) and "Fist of Jesus" (2012), both shot in Ibiza.
In 2007 Julio Medem landed in Ibiza to shoot "Caótica Ana" (Chaotic Anna), a much talked-about drama that we all recognize. The footage narrates the vital and artistic apprenticeship of its protagonist, the young Ana, who takes leave of her home in Ibiza to dedicate herself to painting in Madrid.
The script for "Caótica Ana" began as a comedy but became darker and more dramatic because of a series of tragic events that occurred in the director's personal life.
Cala Saona, in Formentera, returns to play an important role in another of his films, the international hit "Lucía y el Sexo" (Sex and Lucía). Medem knows how to capture the mystery and passion of the Balearic ambiance very well, developing the spiritual conflicts of his characters. It's probably not the last time he'll be inspired to choose our islands to tell his stories.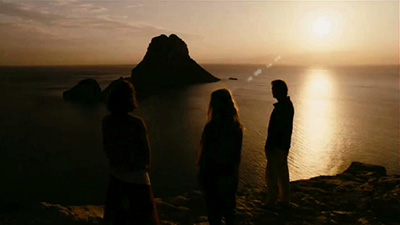 SOURCE: Ibiza Film Office
As an aside, we tell you that this was the director's seventh film and it had a budget of 5 million euros, being one of the first European productions to be recorded in HD.
As we have begun by saying, Ibiza has been an ideal setting for cinema for several decades for many reasons, but we are left with the enchanting halo that surrounds our island and the great attraction that it exerts on national and international professionals. We've taken a tour of the most popular Spanish-label feature films from the 1970s/80s to the present day, but there are still many stories to tell from the heart of our beautiful paradise.