It would be a total injustice to continue discussing film without paying homage to the origin, to the beginning of this passion in which we are emotionally invested: the silent film.
The silent film era lasted from 1894 to 1929, defined by its lack of synchronized sound and consisting solely of images, sometimes accompanied by live music. The quality of these films, especially for the 1920s, was extremely high if we bear in mind the level of media and technology available at the time.
In the majority of these films, subtitles or signs were added to clarify the scene to viewers and to show characters' conversations or thoughts.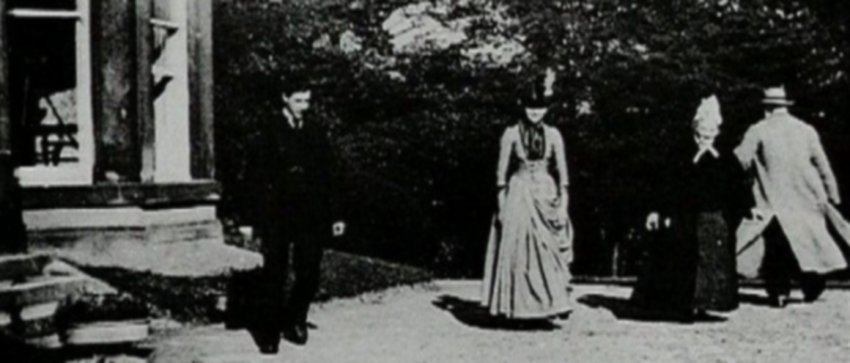 Roundhay Garden Scene. SOURCE:  Iribarrenfilms.blogspot.com
The first silent film was made by Louis Le Prince in 1888 and lasted a mere 1.66 seconds, showing two people walking through a garden. It was called Roundhay Garden Scene.
Many decades have gone by since these movement images began and there's no better way to commemorate the birth of film than by paying homage to the films of one of the greatest silent film creators in history: Buster Keaton.
This year, Sant Jordi de Ses Salines once again organises its cycle of Cine a la Fresca (outdoor cinema), which offers free screenings every Saturday in July and August. This time, the central theme is the previously mentioned silent film and the program has been named "Pamplinas" (Saphead), in reference to Keaton's highly celebrated silent comedies.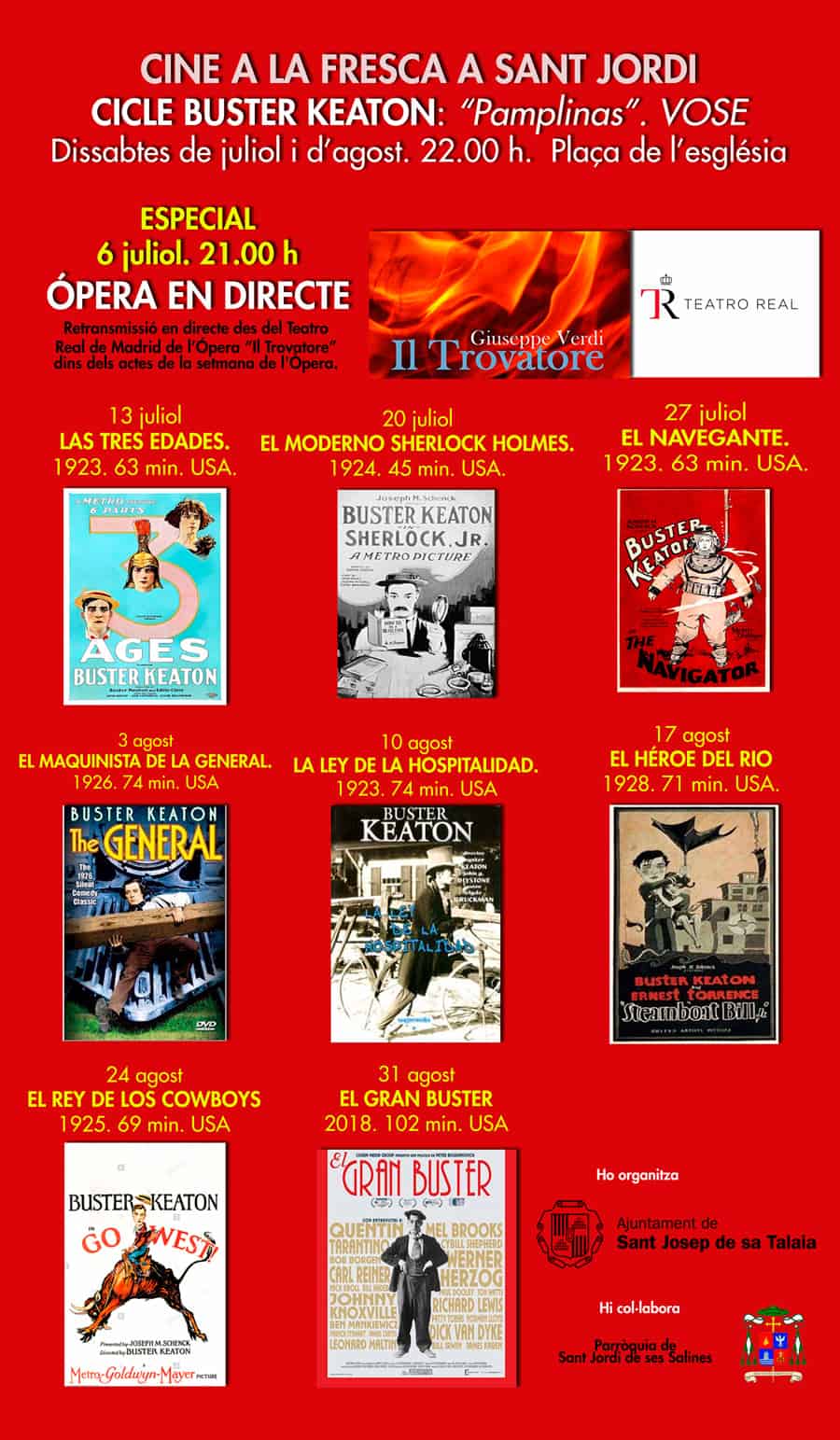 SOURCE: welcometoibiza.com
On Saturday 13th July, the film The Three Ages–Keaton's first long film–was screened. Shot in 1923, it's a parody of the film Intolerance, which is also a silent film, directed by David Wark Griffith in 1916. In the parody, the North American shows his dramatic and comedic talents whilst he competes with Wallace Beery to win the heart of Margaret Leahy in prehistory, ancient Rome and the modern age at the time: the twenties.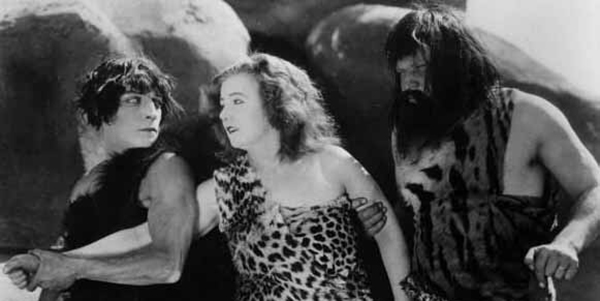 SOURCE: www.filminquiry.com
The following date in the cycle was Saturday 20th July, showing Sherlock, Jr., a 45-minute film about the world of cinema. In it, Keaton is stuck in the body of a projectionist who dreams of being a detective, when miraculously, he finds himself inside the film that's being screened trying to save his beloved from the wrath of the villain.
The third screening featuring the American director and actor was on 27th July. In this case, the chosen film was The Navigator, also from 1924. Here, Keaton and his lover get on board a boat that has been sold by the girl's father to a country at war with another country, but the buyer's sole intention is leading the ship to wreck.
The cycle is set to continue on 3rd August with one of the most iconic titles of Buster Keaton's career: The General. On 10th August, we'll be able to enjoy Our Hospitality, a film which follows the story line of a generational feud between two families, the Canfield's and the McKay's, up until Keaton meets the Canfield daughter.
The next film is Steamboat Bill, Jr., made in 1928, about a heir to a goods transport company through the Mississippi, who falls in love with the daughter of his rival, set to be screened on 17th August. The second last showing in the cycle will be Go West, about a young country boy who emigrates to New York in search of employment but feels obligated to work as a cowboy.
For the finale on 31 August, The Great Buster will be screened, a Peter Bogdanovich documentary which celebrates the life and career of one of the most prolific and influential filmmakers in Hollywood, Buster Keaton. It includes interviews with friends, family, collaborators and other directors and people involved in film, such as Quentin Tarantino, Mel Brooks, Werner Herzog, Johnny Knoxville and Dick Van Dyke.
SOURCE: Filmaffinity
There's no denying that this is an excellent opportunity for us to delve into the world of the silent film, often an alien concept to younger generations, and what better way to do it than through a film making genius…
Joseph Keaton, who came to be known as Buster, made his official stage debut in 1899, participating in his parents' music hall show, The Three Keatons, where he imitated everything his parents did. At only five years old, he managed to win over the audience. 
After a childhood and adolescence filled with tours and shows, in February 1917 Buster decided to leave for New York and made his first film that same year. Between 1920 and 1923, Keaton shot the long film, The Saphead, and 19 short films. When he changed producer, he made 10 other long films, between 1923 and 1928. His films were characterized by their high expense, as he wouldn't hesitate to order an ancient train or a transatlantic ship for instance.
Buster Keaton began to take the leading role in a series of comedies that catapulted him to fame, including One Week, Cops, The Electric House and The Playhouse. He reached the peak of his creativity during the 1920s and became one of the most famous comedians in the world, his success was only comparable to that of his colleagues Charlie Chaplin and Harold Lloyd, with whom he maintained good relationships.
In 1966 the sun set on Buster Keaton in Los Angeles, but his bright entertainment and great film moments shined on, making thousands of people laugh out loud with only images and music.
We strongly encourage you to watch some of his films and bear in mind how difficult it was for him, at that time, to awaken feelings and emotions in viewers using only the resources available to him. Because of this, the great success of directors at the time has, if anything, a lot more merit, as they already knew how to advance and innovate within the audiovisual world, leaving an unrepeatable legacy.