A few months ago we dedicated an article to the 3rd Edition of the Ibicine Festival that has taken place throughout this year, with the progressive selection of the short film finalists. On November 16th, the Astarte Awards ceremony took place, in the last edition of this Festival which has more and more fans each year and brings together a large number of film professionals on our island.
Now, we're going to tell you how this year's edition developed, and of course, the winning works that give the short film format the spotlight it has always deserved.
Humour, anecdotes, messages from great actors and actresses, music, dance and lots of cinema. Helher Escribano, the sponsor of Ibicine and the person that promoted all that it means, was accompanied on stage by the special guests of this edition, Jon Plazaola and Michelle Calvó, who was the first to receive the Astarté Award for Best Actress in 2017.
This year the Festival has revolved around women and their involvement in life and the world of cinema, as did the speeches.
The big winner of the night was Fernando Bonelli with the short film La Tierra llamando a Ana (Earth to Ana), winning the Astarté award for Best National Short Film, Best Actress for Laia Manzanares and Best Original Soundtrack, composed by Bonelli and Antonio Simarro. This is a 20-minute short film that takes a very realistic look at relationships.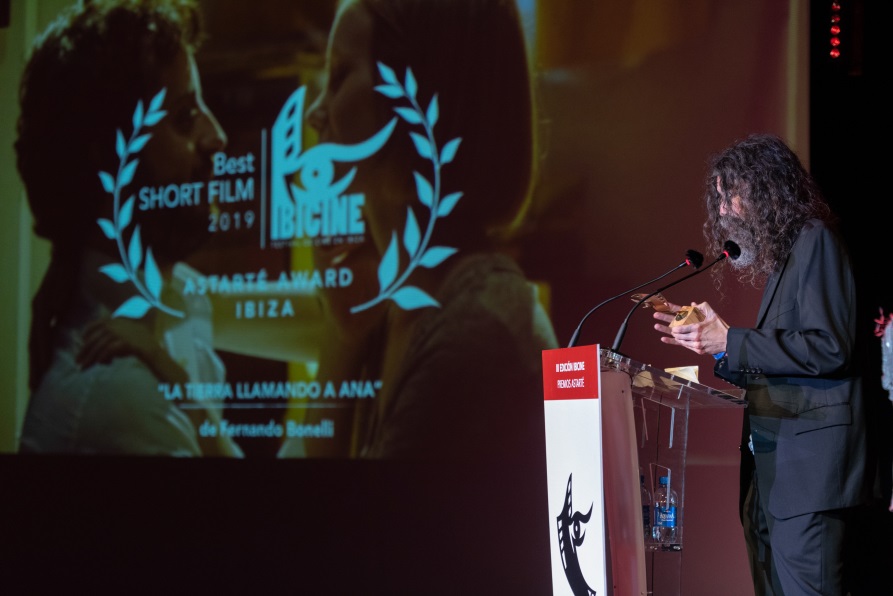 Continuing with the list of winners of this edition, we find La Noria (The Ferris Wheel), by Carlos Baena and Xiao Xian, by Jiajie Yu Yan, who was one of the favourites. Both had seven nominations and were awarded three Astartés each: Best Animated Short Film, Best Direction and Best Production for La Noria; and Best Director of Photography, Best Make-up and Hairdressing and Best Costume and for Xiao Xian.
In addition to the categories that have been awarded since the beginning of Ibicine, there were also two new special awards: one granted by CIMA (The Association of Women Filmmakers and Audiovisual Media of Spain) to films dealing with feminist issues, parity and the fight against gender violence; and the other granted by La Dalia Films, consisting in making the winning short into a feature film.
The CIMA award went to Nuestra Calle (Our Street) and was awarded by Victoria Morell, also a juror of Ibicine and delegate of CIMA in the Balearic Islands.
The short film Ama (Love) won the La Dalia Films award and will be made into a feature length film.
In addition, Juan Francisco Polo, the driving force behind El Blog del Cine Español (The Spanish Cinema Blog), awarded a Special Prize of 200 euros worth of advertising on its page to the short film La Guarida (The Lair)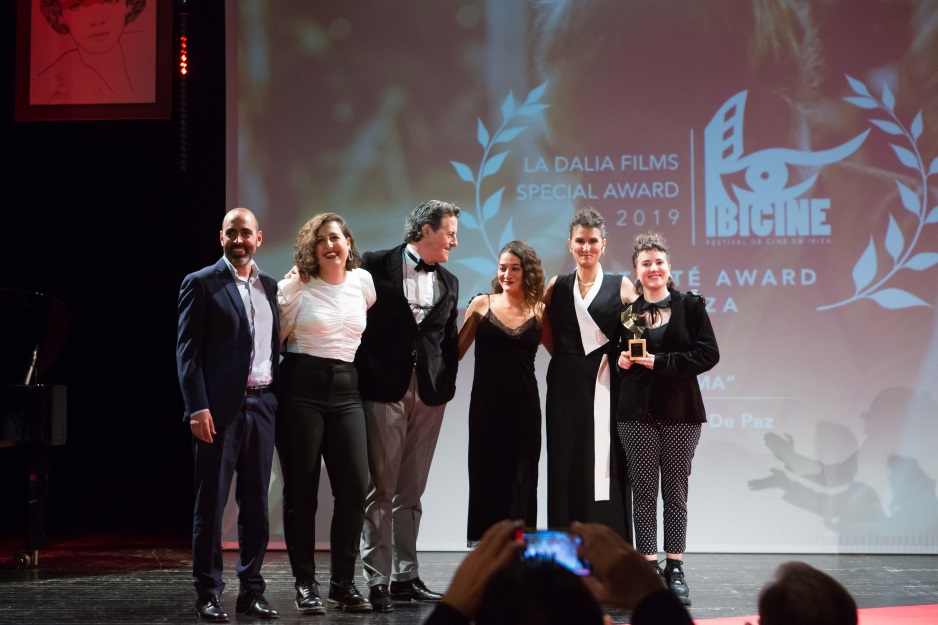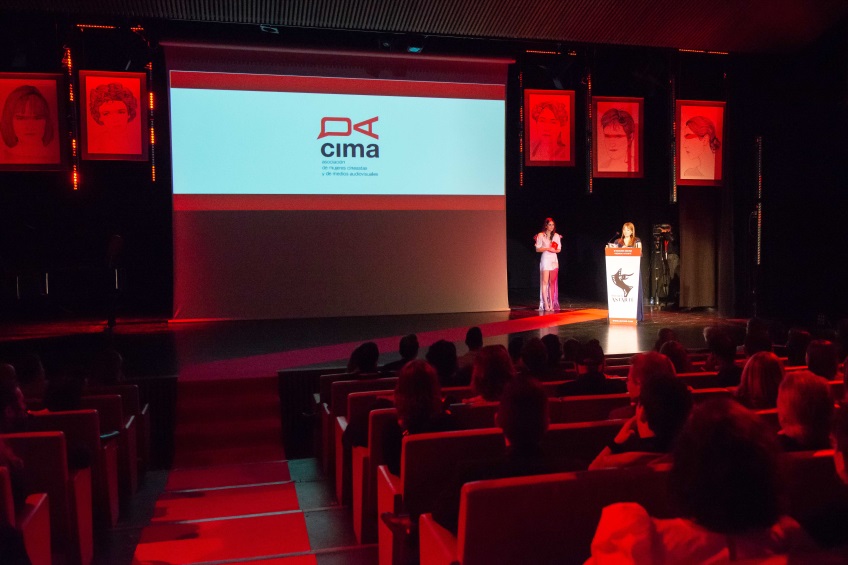 Without a doubt, the most entertaining part of the Gala was thanks to the great actresses Belinda Washington and Itziar Castro, who awarded the Astarté Audience Award and the honorary prize to CIMA, recognising its great work for the inclusion of women and the fight for equality in the film sector.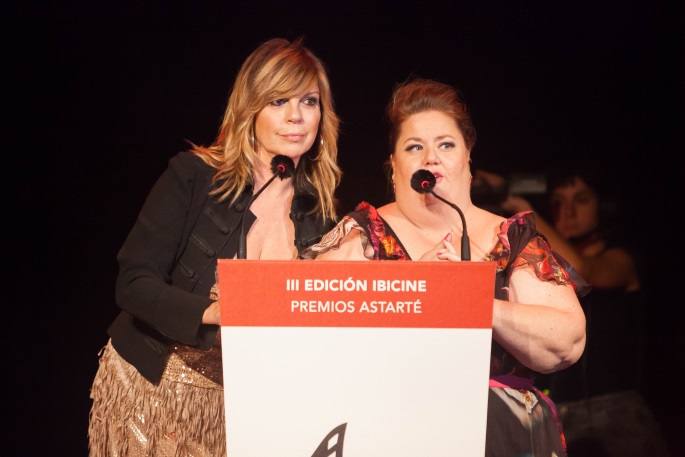 In short, it was a very special night, full of well-known faces with very successful cinema careers, as well as the important message, with women and the demand for equality, which should be a reality, as the common thread.
Here are the list of this year's winners:
Best National Short Film: La tierra llamando a Ana, by Fernando Bonelli
Best Production: Sasha Korellis and Carlos Baena for La Noria
Best Foreign Short Film: Roberta's living room by Judy K. Suh
Best Direction: Carlos Baena for La Noria
Best Script: Joan Abelló Sanz and Iago de Soto for La guarida
Best Actor: Ricardo Gómez for Un cuento al revés (An upside-down tale)
Best Actress: Laia Manzanares for La tierra llamando a Ana
Best Editing: Frank Gutierrez for Caronte (Charon)
Best Cinematography: Mario Lerma and Alejandro Rapariz for Xiao Xian
Best Original Soundtrack: Juan Antonio Simarro and Fernando Bonelli for La Tierra llamando a Ana
Best Art Direction: Aitor and Francisco Almuedo Esteban for La guarida
Best Sound Design: Daniel Jiménez for Caronte
Best Costume: Victòria Fuertes for Xiao Xian
Best Video art: Dear fear, by Benji Weeratunge
Best Makeup and Hairstyling: Abigail Cimarrusti, Paula Herrero, Patricia de Lucas, Alicia Espada and Esmeralda Sánchez for Xiao Xian
Best Animated Short Film: La Noria, by Carlos Baena
Best Fashionfilm: Woods, by Alex Yoga
Best Poster: Angel Luque for Background
Best Videoclip: Youth is dead, by Javier Mazuelas
CIMA Special Award: Nuestra calle, by Clara Santaolaya.
Special Prize from El Blog del Cine Español: La guarida, by Iago de Soto.
La Dalia Films Special Award: Ama, by Julia de Paz.
Every year Ibicine grows and becomes better known on our island and beyond, so we hope its success will never end.
We encourage you to enjoy all the award-winning short films and we hope that this format becomes as valued as other types of audiovisual works.
The call for the IV Edition of Ibicine will begin in March 2020…
We're looking forward to doing it all over again!