The time has come to reveal the winners of the second edition of the Ibicine Film Festival – focused this year on short films, attracting both international and national professionals.
Like we've mentioned in previous posts, short films are gaining visibility in our island's audiovisual reality. Precisely, the main objective of this years Festival is aimed at the importance of short films and in giving them the recognition they deserve as the godfather of featured films and cornerstone of cinema.
Moreover, having in mind the success of our last edition, this is another chance to advertise our island at every level. This is thanks to the influence of professionals and attendees that opens up a spectrum of endless opportunities for networking in an event focused on cinematic professionalism, highlighting uncountable advantages and amazing Ibiza's locations- perfect for any type of film shooting.
This year, more than 500 short films were submitted from every corner of the world such as the USA, Japan, Australia, Mexico, Argentina and Russia. The award ceremony has also been extended to 18 categories, including Best Videoclip and Best Fashion Film. What is more, awards to Best Actor and Actress will be given and the Best Foreign Film category will also be included.
The committee in charge of selecting the participants had their work cut out for them by choosing the 53 films that were played during the 5 semifinals in July and August set on the island's different locations (Can Ventosa, Sant Joan, Can Jeroni, Sant Antoni and Santa Eulària).
Furthermore, in each semifinal, attendees could enjoy Master classes taught by renowned professionals who addressed a range of interesting topic like frame by frame animation known as Stop Motion, sound in film, interpretation and audiovisual production.
Source: https://www.ibicine.com/semifinalesibicine18
It would be a crime not to mention the two founders of the Festival and who are also in charge of all the event's organization: Helher Escribano and Irene Torres, two young ibicencas passionate about cinema that began this exciting project in 2017 and that carried out the first edition of the Ibicine Film Festival.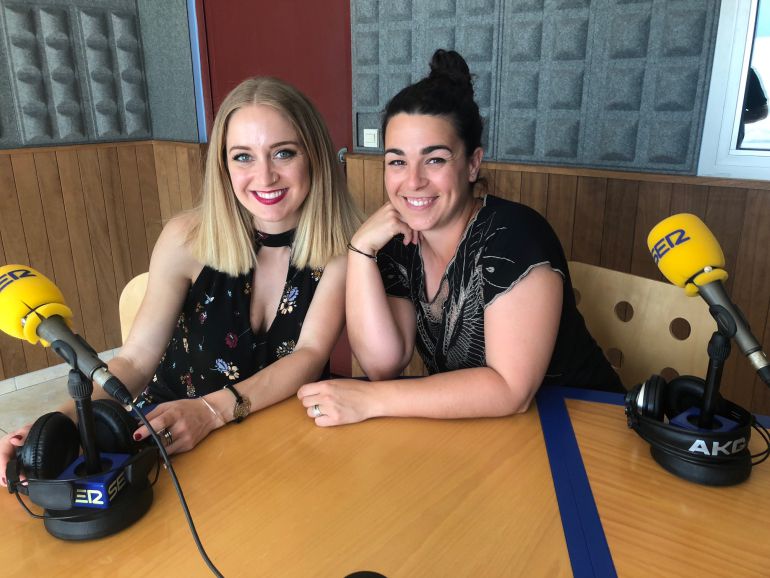 Helher Escribano and Irene Torres – Ibicine – Source: http://cadenaser.com/emisora/2018/06/12/radio_ibiza/1528815384_237 403.html
This year's eye-catching poster was designed by Jesús de Mathos, a.k.a Ezú, winner of the Astarté award to Best Poster at last years edition.
The poster is characterized by its intense red hues – portrays the main stars of this year's event Jon Plazaola and Inma Cuevas, and not to forget the statuette that will be awarded to the winners of each category.
Tanit – the goddess of Ibiza was the most important figure in Carthage mythology and was equivalent to the Phoenician goddesses Astarté that represented the worship to Mother Nature, life and fertility, as well as the glorification of love and carnal pleasures, hence the name of the Festival's awards.
The statuette, designed by the Madrid-born sculptor Andrés Herráez Sánchez de las Matas based in Ibiza, represents the goddess' gaze through the film as a metaphor of how the magic of ci-nema has brought many stories to life.
Source: https://www.ibicine.com/semifinalesibicine18
​
At the Astarté Awards Gala, which will take place next December 1st, statuettes will be awarded to the following categories:
1.   Astarté Award to a Best Short Film voted by the Public
2.   Astarté Award to a Best National Short Film
3.  Astarté Award to a Best Foreign Short Film
4.  Astarté Award to a Best Fashion Film   
5. Astarté Award to a Best Videoclip
6.   Astarté Award to Best Director
7.  Astarté Award to Best Production
8.   Astarté Award to Best Actress in a Leading Role
9.  Astarté Award to Best Actor in a Leading Role
10. Astarté Award to Best Screenplay
11. Astarté Award to Best Film Editing
12. Astarté Award to Best Cinematography
13. Astarté Award to Best Production Design
14. Astarté Award to Best Makeup and Hairstyling
15. Astarté Award to Best Costume Design
16. Astarté Award to Best Original Score
17. Astarté Award to Best Sound Production
18. Astarté Award to Best Film Poster
19. Astarté Award to Best Cinematographic Achievement
* Special mention from the jury to Women in Cinema
As we previously mentioned, the Festival's guest stars are Jon Plazaola and Inma Cuevas, two renowned artists and the perfect ambassadors in order for the event to gain more visibility. The event ends on November 30th and continues with the award ceremony taking place on December 1st.
Jon Plazaola has been appointed Ibicine's longlife sponsor: he has been working as a comedian and monologue writer since 2001 and 4 years later began to act in Basque regional television staring in the series "Allí Abajo" by Antena 3. Don't be surprised to see him collaborating in several programs like the afternoon talk show "Zapeando" on the famous television network La Sexta. 
Jon Plazaola – Source: Interview Territorio de misterio
Inma Cuevas from Madrid has a long career in cinema, series and short films, in addition to the many awards she has collected throughout her career as an actress. Let's not forget her role as Anabel in the successful series "Vis a Vis" or the featured film "Toc Toc" directed by Vicente Villanueva.
There's no doubt about it: world-class icons will be present for this second edition of a Festival that pours art onto our island.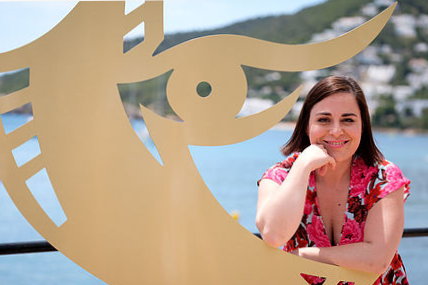 Source: https://www.ibicine.com/presentacionibicine18
The jury will be made up of renowned stars from all the categories in the world of cinematography: Cristina Andreu (Film Director and President of CIMA), David Marqués (Director and Screenwriter), Ruth Armas (Actress), Marcos Cabotá (Director and Producer), Mariam Hernández (Actress) and Inés Garrell (Director of the Mallorca Film Festival).
It is up to them to decide which short films are finalists in each category, as well as the winners of the Astarté Awards, except for the one awarded by the public.
We already know the finalists of this year's edition and we'll know the work chosen by the public next November 30th !
1st Finalist:
"Ringo", by Adrià Pagès Molina
2nd Finalist:
"Renta Antigua", by Vicente Barella
3rd Finalist:
"The App", by Julián Merino
4th Finalist:
"Ni una sola línea", by Víctor Díaz Somoza
5th Finalist:
"Z – Fest", by David Cordero
During the gala, we will be able to enjoy a red carpet- taking place on the main street of Santa Eulària that will be led by the comedians and dubbing actors Keunam and Hermoti that already triumphed among the attendees in the previous edition.
Additionally, this year will recognize the extensive and successful professional career of Isabel Coixet, winner of countless awards including 5 Goyas. On December 1st, she will be honored once again with the Astarté Award for the Cinematographic Achievement in recognition of the important work she has done whilst always honoring the role of women in cinema.
Isabel Coixet – Source: https://www.mujerhoy.com/vivir/protagonistas/201802/03/premios-mujerhoy-isabel-coixet-20180130114620.html
All in all, we would like to mention the important networking that occurs thanks to the Festival itself, as it encourages the cooperation between the winners of the different categories to create one joint project.
On December 1st, a multitude of well-known faces will parade in front of the Teatro España, clearly meaning that nobody wants to miss out on this important date in the Mediterranean paradise of Ibiza.
Artists such as Hugo Silva, Álex de la Iglesia, Arturo Valls, "Los Javis", Macarena Gómez, Maggie Civantos, Santiago Segura among many others will be present in addition to the sponsors, jury and our honoree Isabel Coixet.
We encourage you all to attend this grand event on December 1st – an event flooded with culture, glamour, dreams, illusion and of course lots of cinema!
Please visit www.ibicine.com for all the information about the event and to purchase your tickets.